Monica Castiglioni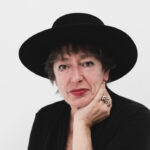 Her styling mainstay is the unique and yet ever changing compositions that can be created by simply adding and mixing her pieces. Monica has always liked working bronze since it unmistakably shows its inner life through its oxidation process. All her creations are either in limited numbers or single pieces and are produced with the lost wax casting technique. Some of her collections come in bigger sizes and are pieces of sculpture made in cooperation with Fonderia Artistica Battaglia in Milano and Modern Art Foundry in New York City. Yet, bronze is not the only material that Monica Castiglioni uses: her penchant for experimenting and testing different and new materials has led her to produce felt accessories together with a team of craftsmen from Kyrgyzstan and some recently designed and produced pieces in Pyrex made in Brooklyn. In 2014, Monica was fascinated by the universe of 3D printing and, first and foremost, by the great freedom of designing objects in endless variations. In cooperation with the Italian brand .bijouets, specialized in producing pieces of jewellery and accessories with a mix between 3D technology and hand-made techniques, Monica created her jewellery collection made in sintered polyamide. Some of her pieces may also be purchased at the Metropolitan Museum of Art and Cooper Hewitt Museum stores in New York City. In 2019, after a long cooperation, Monica Castiglioni opened a new store in Fukuoka, Japan. Monica Castiglioni is also into visual arts. She published a photo book titled "A Glimpse in the Puddle": an experimental exercise of seeing New York City through the puddles in the streets. Monica's videos often become short-movies on artists and their living and working environments, the process of jewels creation, or are simply memories of everyday life and her glimpses into Nature.
MONICA CASTIGLIONI ATELIER
Creating pieces of jewellery has been her great passion for 40 years in Milano, New York City, Ortigia and Fukuoka.  Her pieces of jewellery often take the shapes of Nature and the flower pistil has become her iconic shape among the many others of her vast production.